We're not taking any chances.   You're too important! 

We are committed to maintaining the highest standards of cleaning, sanitizing, and social distancing to keep you and your family safe as we continue dealing with the Covid pandemic.   
We're not taking any chances or risks with your health, safety and comfort.
You are too important and you deserve nothing but the best.
To maintain Social Distancing,
we are limiting the number of Counsellors working in the office each day, Monday through Saturday.
When you arrive for your IN PERSON Session, we ask that you call us (306) 242-1010 from the parking lot.
We'll let you know when you can come in  🙂
This will ensure that there is no one in our reception area but you!
We'll be asking you 4 COVID health questions…the same ones all of our staff are required to answer every day.
When you enter our building, you'll be pleased to know that it is being cleaned and sanitized constantly.
This includes the cleaning and disinfecting of all doors, door handles, the elevator & all of it's buttons,
the stairway & railing, and the washrooms.
As Face Masks are mandatory, you'll need one when you come in.  
If you forgot yours in the car…no worries.  We've got you covered.  We've got lots of free Face Masks available for you at our front door.  
As soon as you enter our Office, you'll see this beautiful succulent arrangement adorning our Hand Sanitizing Station.
Special thanks to our friends Chris & Roger at Solar Gardens for helping us to bring nature, freshness and a sense of calm into our space.
And then you'll be welcomed by our friendly Office Manager Marcy Atchison from behind her plexiglass shields.  If you have an evening or Saturday appointment, you'll meet Christy, Jenna or Rebecca.
Unfortunately, given the health and safety regulations, we aren't able to offer you our Signature Nanimo Bars, Delicious Fresh Fruit Cups or our Incredible Freshly Ground Coffee.  But as soon as we can, we'll have plenty for all.  🙂
Special thanks to Rob Jackson at MCK Equipment for the wonderful plexiglass shields.
As we want to keep our hallway clear, your Counsellor won't be greeting you at the Reception desk.
However, the offices have been numbered and you'll be advised which office you'll be working in so that you can meet your Counsellor there.
It's no yellow brick road, but you can follow the bright orange strips on the floor to ensure social distancing.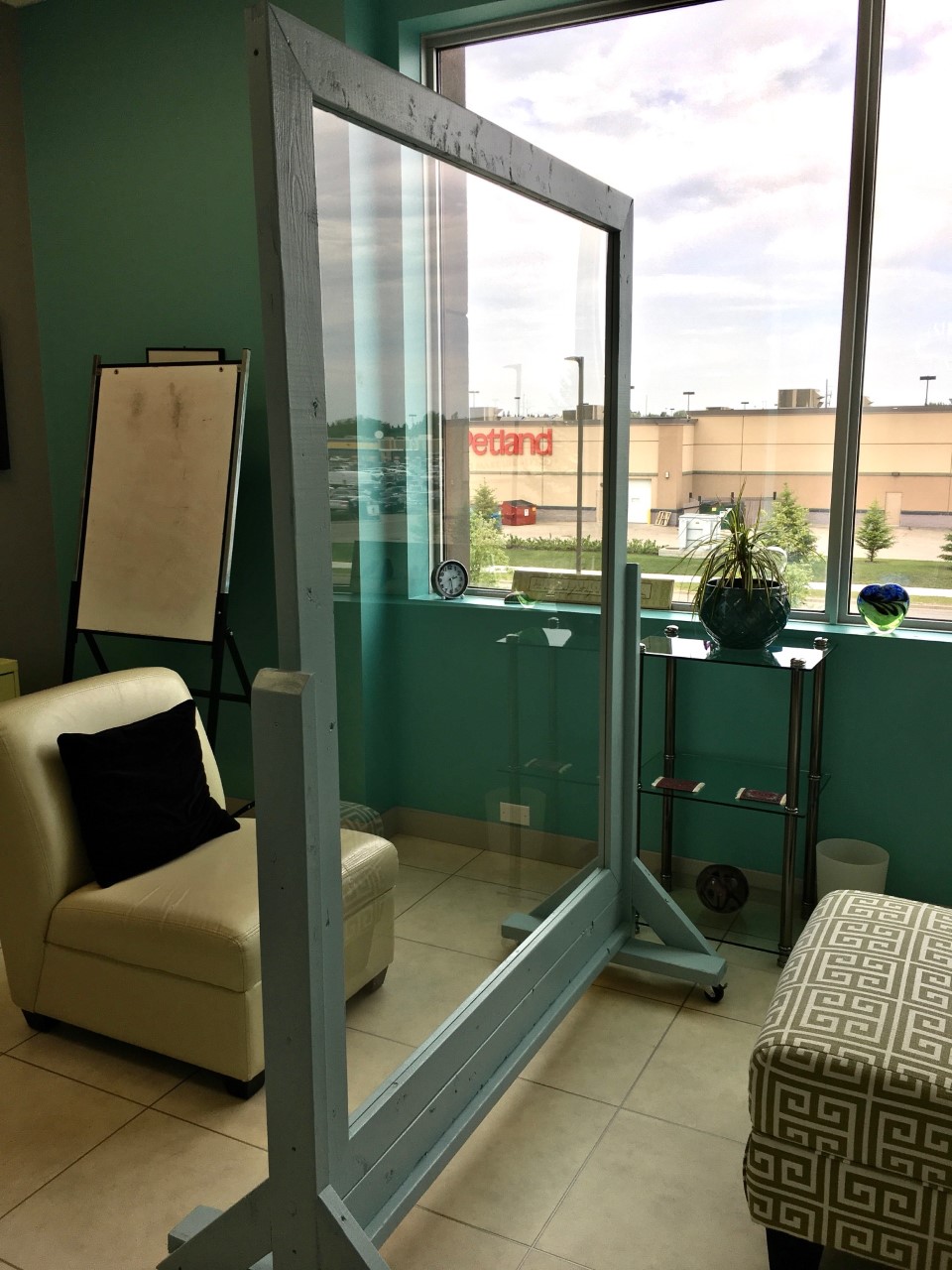 Just for You!
As another layer of protection…
For your health, safety and comfort,
we had Custom Made Plexiglass Room Dividers built for every Counselling Office.
They're huge!  5 ft wide x 6 ft tall.
These Plexiglass Room Dividers make it easy to see, hear and speak with your Counsellor.
We're cool wearing facemasks in session to keep you safe.  
If you forgot your facemask at home…no worries…we've got you covered. We've got lots of them.
Special thanks to my Handyman Extraordinaire Steve Mihalicz and
Keith Sawatsky & his team at WD Plastics for taking the vision in my head and making it into reality.  
In every Counselling Office, you'll also see a beautiful bowl filled with
cleaning supplies, along with a lovely glass jar with more hand sanitizer.
Just because they're cleaning and sanitizing products
doesn't mean they can't be pretty!  Right?
Before and after EVERY IN PERSON Session, the Counselling Offices are thoroughly cleaned and disinfected.  Everything is cleaned…from doors, to door handles, light switches, chairs, floors, tables, desks, as well as the Plexiglass Room Dividers.
The beautiful succulent bowls in each office are
from our friends Roger & Chris at Solar Gardens.
When we say we aren't taking any chances
with your health, safety & comfort…we mean it.  
We're Ready When You Are!
If you want to see us IN PERSON…you can book your appointment online or just give us a call at (306) 242-1010.  
Not Ready for an In Person session?
NO WORRIES.
We will continue to offer sessions by ZOOM, Phone and FaceTime for your comfort and convenience. 
Book Online here You'll see the various options so simply book the type of session you prefer.  
Thank you for the opportunity to work with you. 
* We're proud to be able to work with and support such fine local businesses including MCK Equipment, WD Plastics Ltd., Solar Gardens and Handyman Steve Mihalicz.